Bookkeeping Services For SMEs At The Most Cost-Effective Prices

---

» Get outsourced bookkeeping services at utmost low prices.

» With Accounts Confidant by your side, avoid all the hassles involved with maintaining accounting books, payroll, invoices and filing taxes.

» Get Small Business Accounting Services directly from the most competent and highly experienced accounting professionals at Accounts Confidant.

5 Reasons Why You Should Outsource Bookkeeping

---

» It saves you time.

» Cost-effective.

» Get Specialized Small Business Accounting Services from the seasoned professionals in the domain.

» It takes away the distraction from your Core Business Operations.

» It takes away the Stress and Responsibility Involved in maintaining your financial accounts and settlements.

What Exactly Is Virtual Bookkeeping

---

Virtual bookkeeping, or outsourced bookkeeping, is very much similar to in-house or traditional bookkeeping. i

---

The only difference is that the bookkeeper sits in a remote location and is not physically present with you while working.
My Accounting Worries Simply Disappeared With Accounts Confidant! I have not been able to focus on growing my business and was always entangled with my bookkeeping. But, since my association with Accounts Confidant, things changed in a significant manner and the difficulties related to accounting simply vanished for me. A big thanks to the professionals at Accounts Confidant who took care of my accounts, tax-filings as well as payrolls, as if they were their own. You people are simply awesome!

Quality Bookkeeping Support at Real Low Prices! I subscribed to their services around five years ago when I heard about the real low prices at which they were offering their help. I simply agreed to subscribe to their bookkeeping plan thinking that I will cancel after a month or two, but for now, let's take a chance with them considering their excessive low prices. I was almost sure that they would lack the quality at such low prices. But, it came to me as a pleasant surprise when I found out that they are at par in terms of the standard of quality provided by only the premium accounting firms in the U.S. Since then, our business relations have only strengthened, and they have indirectly helped me a lot in allowing me to concentrate on my core business operations rather than worrying about things like periodic tax-filings, payroll processing and late payments & penalties.

A Reliable & TrustWorthy Online Bookkeeping Service Provider I would like to recommend Accounts Confidant to all the SMEs worldwide as they offer efficient, cost-effective and industry-specific bookkeeping services while not compromising at all on the quality part. Further, they are experts at customization, and hence, can offer you bookkeeping services that are customized as per your business-specific needs. They even send you customized bookkeeping reports over email if you insist.

A Trusted Bookkeeping Partner For Last 7 Years Accounts Confidant had been providing us with their virtual bookkeeping support for last 7 years, and in brief, I could only say that they had done a phenomenal job! Hands Down, they are the big daddy when it comes to bookkeeping, maintaining accounts and updating them at frequent intervals with zero involvement on your part. You don't need to poke them every now and then to get your accounting records updated. That's is the most likeable trait of them which I appreciate a lot. In short, they understand their responsibilities and are strictly professional with their work ethics and communications. Especially with QuickBooks, they could be assigned with the title of "Masters"!

I would never have known that virtual bookkeeping can do such wonders had I not reached out to Accounts Confidant I never considered Virtual Bookkeeping Services as an effective solution to get my small company's financial records maintained. But then, one of my contemporaries suggested me of Accounts Confidant during a work meeting, as he happened to be one of the clients of Accounts Confidant. While he was speaking to me about Accounts Confidant as a Virtual Bookkeeping Services Provider, I sensed a feeling of deep satisfaction and contentedness in his voice. And that convinced me to reach out to them, as I too, was looking for a bookkeeping expert that could lend his services at minimal prices, where Accounts Confidant fitted the role perfectly. Now, one year down the line, I can say it with utmost pride that I was quite lucky to have found Accounts Confidant at the right time and I am very content with their services. Would definitely suggest it to every single SME firm like me.
Contact information
Accounts Confidant
649 BLYTHE CT APT7, SUNNYVALE, A 94085-3297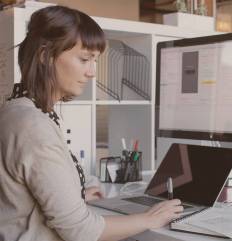 Accounts Confidant is a well reputed and a prominent name among the best accounting agencies that provide outsourced bookkeeping help on a global platform.
At Accounts Confidant, most of our team members are highly experienced at virtual bookkeeping, managing business accounts, filing taxes online on the behalf of a small or mid-sized business and analyzing business transaction statements. We are adepts at providing Small Business Accounting Services to SMEs, that too, at real affordable prices.