Accounting has been around for just about as long as humans have engaged in trade and commerce. No matter what kind of business you have, you should have a system to keep track of all of the exchanges made. The process of keeping a track of all the transactions in a business is called accounting. Every business needs to know how much money they have coming in and how much is going out. Before finding some evolved ways, people used to carry out accounting operations manually and maintain all the records on paper. This process is extremely slow and rather tedious. This is the reason why new alternative methods were discovered.
You must have heard about two different types:
Traditional Accounting
Virtual accounting
Before getting into the difference between them, let's discuss both of the techniques individually. At the core, there are many similarities. Traditional Accounting involves a long process of finding, hiring and then training an in-house or local accountant whom you must trust with your company's most sensitive information. Once the accountant is hired, you will have to constantly monitor and manage him/her.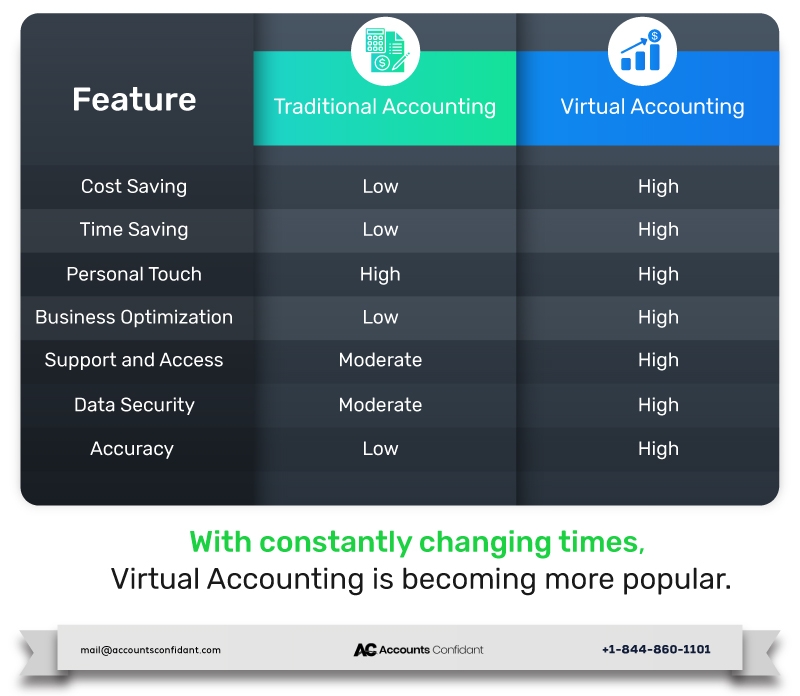 The case is completely different from Virtual Accounting. Once you find a service provider, you can be completely sure about how things will work. You do not have to worry about the excess cost and the tiring process of appointing a full-time employee. However, this does not compromise quality. The costs are relatively lower because you are only paying for the required services and not everything unnecessary. Accounting does not come in the list of core operations of any business and outsourcing these services has now become a popular trend.
Traditional or Virtual, Which one is better?
Everything has its own pros and cons and the same goes for these two accounting styles. To understand each of them in more depth, we will compare each of them on the basis of various feature sets.
Cost:
The most important thing for business owners is to increase profit and reduce costs. Not only in the aspect of sales but, in the methods of conducting business too. In traditional accounting, you will have to establish a proper accounting department and hire employees for that. Having an in-house department will clearly result in increased expenses like:
The cost of infrastructure
Full-time salary for hired employees
Employee Benefits like social security and Medicare.
Employment and payroll taxes
On the other hand, virtual accounting services are less expensive. The main reason for that is, you are paying someone just for the services you are being provided with. You do not have to worry about any other additional expenses. Similarly, there are no hidden costs and surprise charges.
Verdict: Selecting virtual Accounting services is the way to have a more cost-effective accounting solution. It lowers down the infrastructure cost as there is less requirement for office supplies and furniture. It also saves you from additional expenses like employee benefits, taxes, etc.
Time Consumption:
As a business owner, your time is a valuable asset. Every hour you spend on something that could be outsourced is the time you could be spending on accomplishing your business objectives. As traditional accounting involves manual recording and handling of all the data, it is clearly a time-consuming process. With virtual accounting, a lot of time used up in this is saved as there is no need to first hire someone, train them and then keep monitoring whether your work is getting done in the required manner or not. One more reason for virtual accounting being a speedy process is because it uses all the latest technologies and software that will eventually reduce the amount of time used.
Verdict: Virtual Accounting is the clear winner in this scenario. Being in a business means time is money and this accounting method lets you save a huge amount of time.
Personal Touch:
Traditional accounting means handling everything by yourself or being in constant connection with the person doing it. This adds a personal touch to the entire process. But, if you are using virtual accounting then it does not mean that you are lacking that. You will still be able to access everything whenever you want. The fact that your virtual accountant is not physically present in the same workspace hardly makes any difference. As opposed to common belief it does not lessen your control over your financial operations.
Verdict: One advantage of traditional accounting is, you remain in touch with the accountant because either he/she is in the same office or in the same locality. We want that for one ultimate reason, avoiding mistakes. That does not change with virtual accounting or virtual bookkeeping. You have full control over everything and can access anything whenever you want to.
Business Optimization:
Accounting is a very important operation in any business. By choosing the traditional method, you will have to take time out for the entire process. This will leave you with almost no time to focus on things that are important. It is required in every business to track all the income and expenses on a regular basis. Once you outsource the accounting services, then your virtual accounting team will take care of everything related to this. This will leave you with plenty of time so that you will be able to accomplish things related to your core business. It eventually results in higher profitability.
Verdict: Virtual Accounting is a preferable option if you want to take your business to new heights in terms of profitability. As you will be able to manage everything in a much better way.
Support and Access:
In traditional accounting, you hire in-house staff for your accounting department and it is not possible for them to give you constant coverage. You will have to work according to schedules. If you need to look up for something at an odd hour, you will have to wait for some time to get that resolved. The case is entirely different from the alternate method. Getting virtual accounting services means you can access your financial statements and other data whenever you want to. A team of dedicated and expert accounting professionals will always be ready to help you with every issue that you can possibly have.
Verdict: Getting instant answers to all your queries is one of the few first things you will look for in any service. Virtual accounting gets the point in this aspect because in traditional accounting the support given to you will be bound by a time limit.
Data Security:
Is keeping every record on paper secure? The obvious answer is 'No'. Your sensitive data can go in the wrong hands and can be used in an undesired way. If you are concerned about the security of your data then you can completely trust virtual accounting. All your data is handled on cloud accounting software. The people who are doing it are well aware of all the latest security procedures. They employ all encryption techniques to make sure that your financial data is completely secure.
Verdict: When data security comes in the picture, virtual accounting is a clear winner. You can be sure that your financial data will be completely secured.
Accuracy:
Doing everything manually increases the chances of making mistakes. It gets overwhelming when you have to keep a track of all the transactions. Doing this with the help of dedicated cloud accounting software and an entire team of financial experts will reduce the chances of error.
Verdict: With Virtual accountants working for you, you will have a more efficient way of handling accounts. It will surely result in more accurate data and financial statements.
Efforts:
If you hire in-house staff to take care of your accounting operations then you will have to hire new employees to meet the company's needs. You will require additional time to provide them with suitable training on your company's accounting procedures. But if you have an outside accounting firm handling your operations then you do not have to worry about it. They will have their own staffing. They are more capable of adjusting the workload among a large staff because they have experienced people available. These people can easily take on your increased accounting needs and that too on an immediate basis. When using a virtual accounting service the company can expand its accounting needs whenever it wants.
Verdict: Traditional accounting clearly requires more effort as compared to virtual accounting. And being a business owner, your focus is on reducing the effort without compromising the quality of output. Virtual accounting is a way of doing so.
How Virtual Accounting Services can be helpful?
Wondering why Virtual accounting is becoming so popular and how it can benefit your business? Here are the answers.
With virtual accounting, you get an entire team of accountants working for you at a relatively lower price. This method is inexpensive as compared to traditional accounting because you do not have to pay for overhead expenses. These expenses will be taken care of by the virtual accounting service provider itself. This is why the quality of work remains the same or even better at comparatively low prices.
This team of finance professionals will handle your month-to-month accounting tasks. At the end of the year, you will receive a complete package of financial data. That package will have everything you might need in order to file the taxes.
You do not have to keep mountains of paperwork lying around the place. Virtual Accounting will make all that disappear. This gives you less clutter, keeps you in control and ensures you are compliant with good record keeping.
Constant coverage is one of the most beneficial features of the virtual accounting service. These accountants are readily available over a call, email, and skype whenever you require.
This accounting method helps a company achieve higher profits and lesser in-house cost bearing. The people who are running it will be able to focus on the core goals, instead of going around and keeping tabs on the daily expenses.
Wrapping Up!
With constantly changing times, trends are also changing and this is the time to change how your accounting system works. For handling these operations, cloud accounting software is being used. And this means lesser paperwork. It is the beginning of moving towards a paper-less accounting department. A completely online accounting department will streamline all your accounting operations. It will also bring in so many benefits including data security, accuracy, and enhanced productivity, better management and cost-saving. Having a virtual accountant helps you to reach the profit-making point in an easier way. With a reliable and always available virtual accountant or bookkeeper, you can reach new heights. It would help you gain an added business edge over the shortcoming of traditional accountants.
When hiring a virtual accounting service provider, you have to keep your company's services and business requirements in mind.  You need to hire a virtual accountant who can match all your accounting and business requirements with limited cost constraints.
Still not sure about a few things? Have some questions? You can call us and we will help you out. We specialize in accounting and other financial operations. Our team is committed to the demand for outstanding service quality. Our clients know that they are in professional hands. You can call us at any time on +1-888-660-0575 as we work 24×7.